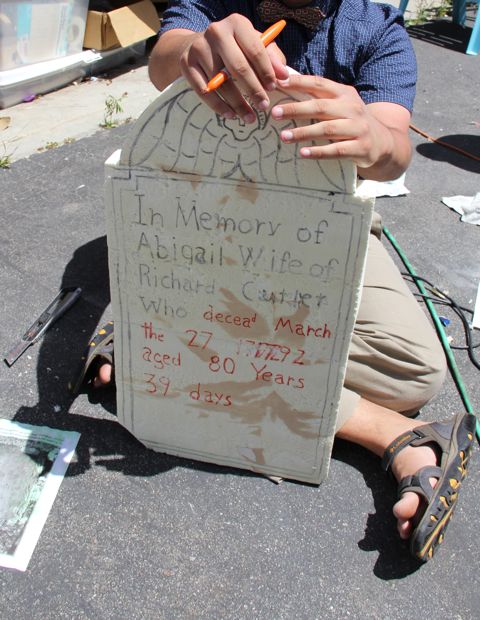 William is a master
stone
foam
cutter. We are already rolling on the plans for the Haunted House...
Victorian Mortuary, complete with the doctor's laboratory and an old cemetery!
Friends are providing the house, and we are
making.
William is creative director, and he has some amazing plans for this ambitious endeavor.
William has done extensive research on 18th century-20th century tombstones, and with Internet pictures on hand, he takes a Sharpie to heavy duty construction foam and begins to free-hand a sketch of the headstone's shape, graphic images, and wording. Then he cuts out the headstone, and begins the carving.
His biggest obstacle? Cutting through the layer of paper that coats the surface of the foam. It is firmly affixed to the foam, covered in writing and very distracting. He has finally hit on the best way of getting rid of it, which is to shave it off, rather deeply, with a chisel.
Labor intensive.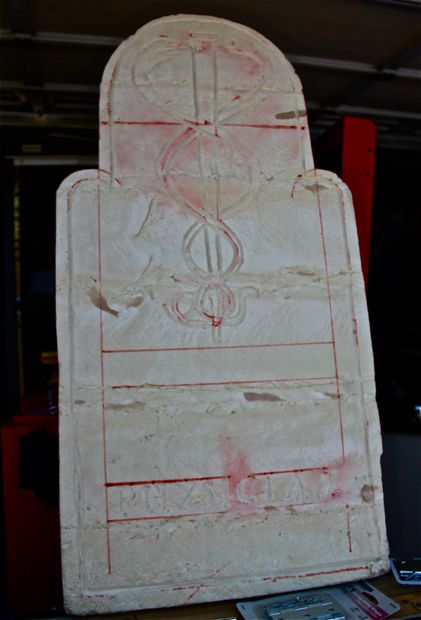 This is the tombstone for the doctor.
Does the doctor have a name yet?
After making a handful of these, I suggested to William that he try designing his own. None of the tombstones are exact copies of originals, but after a bit, William started making totally original designs, like the doctor's tombstone.
Following his
Sharpied
sketch, he chips and cuts at the foam, carving the name, date, and other decorative motifs. They look very good. The foam has nice properties that give the pieces substance and an authentic appearance. And William's artistic skills are shining in this three dimensional medium.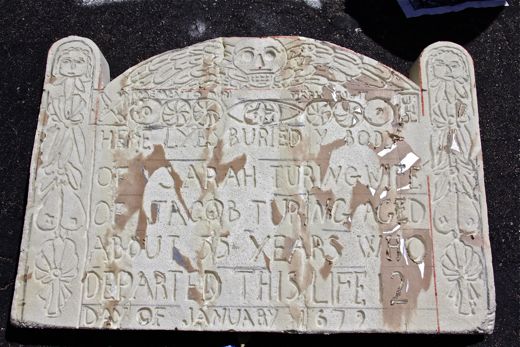 This is the first one he completed.
Almost
completed... next comes painting. He wants to get something dark into the recessed parts, then paint the whole piece in something that has the effect of old stone... maybe a bit mossy, definitely slightly
creepified.
He has thirteen cut and ready for the final touches.
Look out for more posts on what's
Make-ing
for the Haunted House!